Puffers are agressive so there are limited tanks mates. Here you'll find a list of tanks mates for a certain puffer.
Tank Mates for Brackish Puffers such as Spotted or Figure 8:
Below you'll fine a list of Brackish Fish that will go well with puffers.

Scats are great with puffers. Look below at a picture of a Green Scat: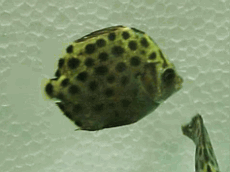 White Tip Shark Cats are good tank mates.
Bumble Bee Gobies are great since they could hide.

Monos are also good tank mates.

Archer Fish are good tank mates since they like to go to the top.